Throughout the process of applying for scholarships, graduate school, or jobs, and amongst the inevitable acceptances or rejections that come with each application, we hear countless clichés that are meant to motivate us, guide us, and console us. Most of the time, I tend to shrug off these clichés, ignore the sentiment behind them, and keep pushing forward. However, my experience applying for, interviewing for, and eventually not-being-chosen for the prestigious Truman Scholarship revealed to me the truth in one of these clichés: sometimes the process and the journey is just as important, if not more important, than the destination.
The Truman Scholarship is a nationally competitive, graduate scholarship for students who are committed to a career in public service. While students go through the application process during their junior year of college, I began to consider the scholarship during my second year, soon after I changed my major to Political Science. I quickly lost my enthusiasm for applying, as many of the application questions asked about my post-undergraduate goals, such as what graduate school I would like to attend, what degree I would seek, and how would graduate school assist me in working towards my professional goals. Ultimately, I struggled with the fact that I didn't have clear answers to these questions at the moment--I had just changed my major; I didn't really know what possibilities were open to me as a student, and I wasn't sure how to clearly define my goals (more accurately, I wasn't sure what my goals were at all).
Completing the Truman Scholarship application was an extremely beneficial experience in itself simply because it forced me to sit down, do some research on graduate schools and programs, and begin to reflect on my goals and how to achieve them. Why do I want to go to grad school? How will it impact my professional goals? What even are my career aspirations? Without the process of completing the Truman application, I probably could have happily made my way through my undergraduate career without having truly reflected on my academic and professional goals.
After completing the application, finalists are invited to interview with other finalists from their state and nearby areas. My 20 minute interview was rough. I went in unprepared for the intellectual difficulty of the questions being asked and was quickly intimated by the panel of individuals who sat in front of me, including leaders of successful nonprofits, graduate school staff, and even a former Congressman (but now you know, so you can't be unprepared!) Despite my numerous blunders, the interview experience ended up being one of the greatest opportunities I've ever had.
Finalists from North Carolina, Virginia, and Washington, D.C. were all invited to interview on the same day, one at a time, about a block away from the White House. At first, I hated the idea of spending all day waiting with the individuals I was "competing against" for this scholarship. Knowing that only one of you from each state can receive the scholarship isn't the best foundation for building new friendships. However, I soon came to realize that this meant I was able to spend the whole day getting to know a dozen of the smartest, most-passionate, and most-driven individuals I've ever met. Despite our stress about the upcoming interviews, the day passed quickly as we networked, discussed our current projects and potential collaboration, walked to food trucks for lunch together, and analyzed the most recent Nicki Minaj single. Still today, nearly a year after the interview process, I have maintained close friendships with many of the applicants I met. We continue to support each other through other applications and the acceptances or rejections that follow, and we celebrate our big moments together, all around the U.S. and internationally. While the interview process was stressful, and was also a significant academic and professional learning moment. The relationships that I built throughout the process have been truly life-changing.
At the time of writing this reflection, nearly a year has past since my Truman Scholarship interview. I'm still very focused on the lessons that I learned throughout the process; I'm trying to make sure that I have an in-depth understanding of the issues I care about and clear opinions on these issues, so I could answer any question that a former Congressman would ask me in any future interviews I might have. I'm trying to make sure that I frequently reflect on my future goals and aspirations and that I evaluate the steps I'm taking to achieve my goals at any moment. I'm keeping in touch with my Truman semi-finalist friends, often sharing resources, words of encouragement, and making new memories together whenever we can. Lastly, I'm doing my best to lean into the cliché that the journey is just as important as the destination and trying to use every opportunity presented to me in my final semester as an undergraduate student to experience as much as possible and learn everything I can.
Written by: Sarah Aldridge, Appalachian State University Class of 2018
Above: Sarah Aldridge with Truman Scholarship Finalists from NC, VA, and DC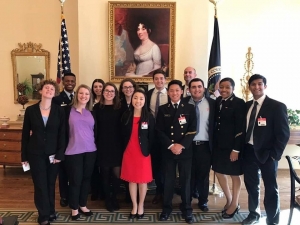 Tags: