Appalachian State University is pleased to announce that eight students and alumni have been named Fulbright U.S. Student Semifinalists from the U.S. Department of State and the J. William Fulbright Foreign Scholarship Board. Appalachian State University's Fulbright Semifinalists include 4 undergraduates and 4 alumni. As semifinalists, applicants have passed through the U.S. based National Screening Committee process and will now advance to the final round of selection with in-country Fulbright Commissions. Final selections will be made later this spring on a rolling basis from now until May.
This year, over 10,000 students from 700+ institutions applied for one of over 1,900 grants to conduct research, study, or teaching in approximately 140 countries through the Fulbright U.S. Student Program. Recipients of Fulbright awards are selected on the basis of academic and professional achievement as well as a record of service and leadership potential in their respective fields.
The Fulbright U.S. Student Program application process is facilitated through Nationally Competitive Scholarships (NCS) at Appalachian State University. Interested students should plan to attend upcoming workshops and reach out to NCS for advising and application support. For more information about the Fulbright Student Program and how to apply, contact Nationally Competitive Scholarships at ncs@appstate.edu or visit https://ncs.appstate.edu.
Since its inception in 1946, the Fulbright Program has given more than 380,000 students, scholars, teachers, artists, professionals, and scientists the opportunity to study, teach and conduct research, exchange ideas, and contribute to finding solutions to shared international concerns. Fulbrighters address critical global challenges in all areas while building relationships, knowledge, and leadership in support of the long-term interests of the United States. Fulbright alumni have achieved distinction in many fields, including 59 who have been awarded the Nobel Prize, 82 who have received Pulitzer Prizes, and 37 who have served as a head of state or government.
For more information about the Fulbright Student Program, visit: https://us.fulbrightonline.org.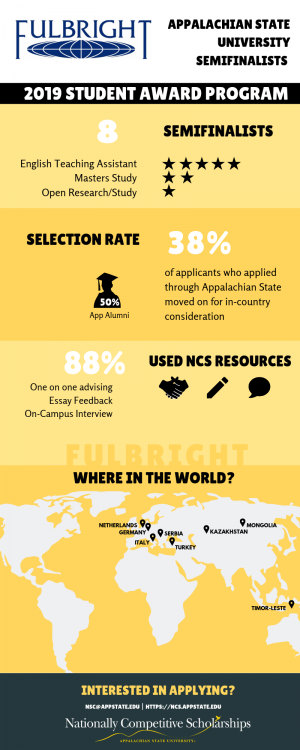 Tags: