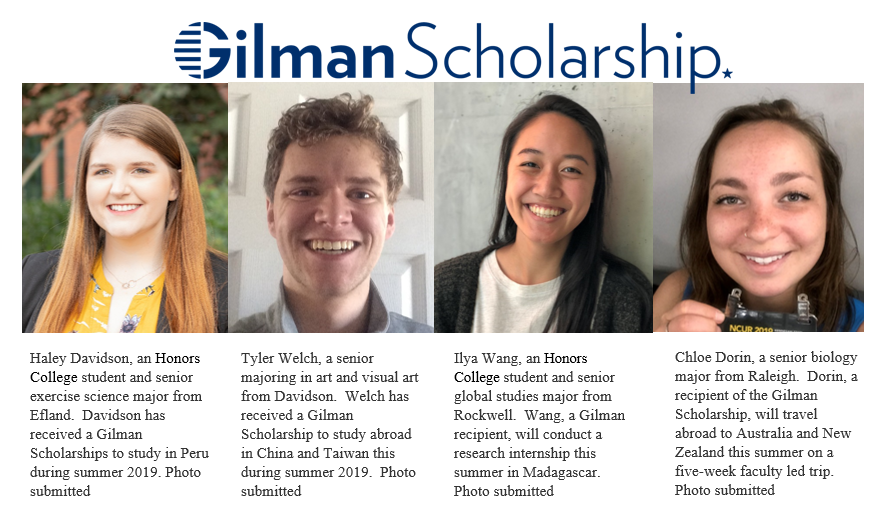 BOONE, N.C. - Appalachian State University is pleased to announce that four students have been awarded the Benjamin A. Gilman International Scholarship for Summer 2019. Haley Davidson, Chloe Dorin, Illya Wang, and Tyler Welch are all Gilman Scholarship recipients and will study or intern abroad during summer 2019.
Haley Davidson, an Honors College student and senior exercise science major minoring in Spanish from Efland, will travel to Peru to study medical Spanish and fieldwork in Community Medicine.
Chloe Dorin, a senior biology major from Raleigh will travel to Australia and New Zealand on a five-week faculty-led trip called Flora and Fauna of Australasia.
Ilya Wang, an Honors College student and senior global studies major minoring in food and nutrition and Chinese from Rockwell, will conduct a research internship in Madagascar. While there, she will assess maternal dietary habits and breastfeeding patterns under the supervision of Dr. Zach Farris, Assistant Professor, Health and Exercise Science and Dr. Alisha Farris, Assistant Professor, Nutrition and Health Care Management.
Tyler Welch, a senior majoring in art and visual art with a minor in biology from Davidson, will be participating in a faculty-led trip to China and Taiwan.
These four students are among just over 1,000 undergraduate students from over 5,000 applicants nation-wide to receive the Congressionally funded Benjamin A. Gilman International Scholarship to study or intern abroad during the summer of 2019. Grants of up to $5,000 allow U.S. undergraduate students from diverse backgrounds to participate in credit-bearing study abroad programs and career-orientated internships.
"The Gilman Scholarship helped me achieve one of my biggest goals since I was a freshman, and in my opinion, one of the more important experiences for people in the health field. I'm getting to take classes about global public health and see the health system in Peru, first hand, as well as gaining more tools for using Spanish in medicine. It's an experience that will directly affect my abilities as a healthcare provider in the future and has only furthered my passion for providing an equitable and equal healthcare experience for everyone," explained Davidson.
The program seeks to support students that might not otherwise participate due to financial barriers and seeks to impact students' academic and career trajectory in a positive way.
This particularly resonated with Dorin. "This trip will be my first time leaving the United States and is in every sense the trip of my dreams. From exploring the Daintree Rainforest to snorkeling the Great Barrier Reef, it will be a life-changing experience for me. Initially, I never imagined I could attend a trip like this. In addition to the two classes that are a part of the trip, I will be conducting my own additional independent research project on pollinator biodiversity. Receiving the Gilman scholarship allows me to have this incredible adventure on the other side of the world while furthering my academic and research goals," she explained.
Welch encourages more students from Appalachian State University to "apply for the Gilman because it is obtainable. I'd recommend seeking lots of critical feedback on your application essays. In the writing and editing process, I learned to make my application essays more specific, clear and concise"
Wang explains the benefit of the process. "While working on the Gilman essays, you are really pushed to be introspective and to not just understand who you are, but how to articulate it in relation to your program and your greater community. I learned so much about myself during this process, and am so grateful to have gone through it," she said.
For more information about the Gilman Scholarship Program and how to apply, contact Nationally Competitive Scholarships at ncs@appstate.edu or visit https://ncs.appstate.edu.
For more information about the Gilman Scholarship visit: https://www.gilmanscholarship.org.
By Joanie Andruss
---
About the Office of Nationally Competitive Scholarships –Nationally Competitive Scholarships (NCS) works with the Appalachian community to recruit and support students for nationally competitive scholarships and fellowships, including those that support research, teaching and critical language learning. This is achieved with outreach, mentorship and advising throughout the entire application and selection process. NCS is committed to helping undergraduate and graduate students find ways to connect their Appalachian education to their future endeavors through scholarship opportunities. Learn more at https://ncs.appstate.edu
About the College of Arts and Sciences
The College of Arts and Sciences is home to 16 academic departments, one stand-alone academic program, two centers and one residential college. These units span the humanities and the social, mathematical and natural sciences. The College of Arts and Sciences aims to develop a distinctive identity built upon our university's strengths, traditions and unique location. The college's values lie not only in service to the university and local community, but through inspiring, training, educating and sustaining the development of its students as global citizens. There are approximately 6,100 student majors in the college. As the college is also largely responsible for implementing Appalachian's general education curriculum, it is heavily involved in the education of all students at the university, including those pursuing majors in other colleges. Learn more at https://cas.appstate.edu.
About the Beaver College of Health Sciences
Appalachian's Beaver College of Health Sciences opened in 2010 as the result of a strategic university commitment to significantly enhance the health and quality of life for individuals, families and communities in North Carolina and beyond. In 2015, the college was named for an Appalachian alumnus and pioneer in the health care industry — Donald C. Beaver '62 '64 of Conover. The college offers 10 undergraduate degree programs and six graduate degree programs, which are organized into six departments: Communication Sciences and Disorders; Health and Exercise Science; Nursing; Nutrition and Health Care Management; Recreation Management and Physical Education; and Social Work. Learn more at https://healthsciences.appstate.edu.
About the College of Fine and Applied Arts
Appalachian State University's College of Fine and Applied Arts is a dynamic and innovative group of seven academic departments, bringing together a variety of perspectives, experiences and real-world education to provide unique opportunities for student success. The college has more than 3,000 undergraduate and graduate majors. Its departments are Applied Design, Art, Communication, Military Science and Leadership, Sustainable Development, Sustainable Technology and the Built Environment, and Theatre and Dance.
About the Honors College
More than 500 students are enrolled in Appalachian State University's Honors College, which serves a diverse group of high-achieving, high-potential, highly motivated students from all majors. The Honors College helps students develop independent and creative thinking and high-level research skills; promotes interdisciplinary inquiry; and nurtures cultured and caring exchanges of ideas. The college's enhanced academic experience prepares students for success in graduate or professional school and for leadership roles in their lives, communities and careers.
About the Office of International Education and Development
The OIED is responsible for spearheading the internationalization efforts at Appalachian. The internationalization mission of Appalachian is to develop awareness, knowledge, appreciation and respect of cultural differences in both domestic and international contexts in its students, faculty, staff and the surrounding communities. The university is also dedicated to creating a campus environment that builds the theoretical and practical skills needed to interact effectively in a global society. Learn more at https://international.appstate.edu.
About Appalachian State University
Appalachian State University, in North Carolina's Blue Ridge Mountains, prepares students to lead purposeful lives as global citizens who understand and engage their responsibilities in creating a sustainable future for all. The transformational Appalachian experience promotes a spirit of inclusion that brings people together in inspiring ways to acquire and create knowledge, to grow holistically, to act with passion and determination, and embrace diversity and difference. As one of 17 campuses in the University of North Carolina system, Appalachian enrolls about 19,000 students, has a low student-to-faculty ratio and offers more than 150 undergraduate and graduate majors.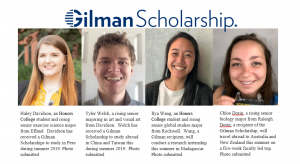 Tags: