Kiana Linehan, a sophomore studying Global Studies and East Asian Languages, Literatures, & Cultures, was recently selected as a recipient of a Critical Language Scholarship (CLS) to study Mandarin. The CLS Program is offered by the U.S. Department of State's Bureau of Educational and Cultural Affairs and allows students to study a critical need language through a fully funded, intensive summer program overseas.
Due to COVID, Linehan will be completing her CLS program via Zoom this summer. However, Linehan notes that despite the change in programming she is still eager for the opportunity.
"I am really excited for all that CLS will throw at me because I love learning about the Chinese language and culture so much."
Linehan will spend two hours a day, Monday through Thursday, in class using primarily Mandarin. In addition to class time, Linehan will have one on one meetings with her professor and will be paired with a language partner to have more discussion based practice to help develop her language skills. Each week the program will host a cultural activity or event that will help students learn more about Chinese history and culture.
Linehan plans on becoming a Mandarin language immersion teacher after graduation and said that CLS is a huge stepping stone in her future career goals. "There is no better way to learn a language than by immersion. With my intended career path, it is obvious that proficiency is needed, and I hope through CLS immersion learning that I will see great growth in my ability to speak and write" she said.
The CLS Program is part of a U.S. government effort to dramatically expand the number of Americans studying and mastering critical foreign languages. Students of diverse disciplines and majors are encouraged to apply. Participants are expected to continue their language study beyond the scholarship period, and later apply their critical language skills in their future professional careers.
Linehan offers advice to other students considering applying for this program: "If you want to learn another language, just do it. If you want to apply to CLS, just do it. Through the essay process, I learned a lot about myself, and through the CLS courses I will hopefully see much more growth in myself. I am a little sad that I cannot be abroad this summer, but at least I will be spending time with a diverse group of students who have a similar goal as myself. Take advantage of the opportunities that come your way, it's worth it to try."
For more information about how to apply for the CLS Program and other awards, contact ncs@appstate.edu or visit ncs.appstate.edu.
###
About the Department of Languages, Literatures and Cultures
The Department of Languages, Literatures and Cultures offers courses that enhance students' understanding of other cultures and languages as well as their own, making them prepared for lifelong learning in a multicultural world. Learn more at https://dllc.appstate.edu.
About the Department of Interdisciplinary Studies
The Department of Interdisciplinary Studies offers graduate and undergraduate degrees in four program areas: Appalachian studies; gender, women's and sexuality studies; global studies; and interdisciplinary studies. The department is also home to Watauga Residential College, an interdisciplinary, alternative general education program. The department promotes creative and imaginative engagement through a cross-disciplinary investigation of complex systems and problems. Learn more at https://interdisciplinary.appstate.edu.
About Nationally Competitive Scholarships
Nationally Competitive Scholarships (NCS) works with the Appalachian community to recruit and support students for nationally competitive scholarships and fellowships, including those that support research, teaching and critical language learning. This is achieved with outreach, mentorship and advising throughout the entire application and selection process. NCS is committed to helping undergraduate and graduate students find ways to connect their Appalachian education to their future endeavors through scholarship opportunities. Learn more at https://ncs.appstate.edu.
Compiled and Written by Johnna Reisner
April 12th, 2022
Boone, N.C.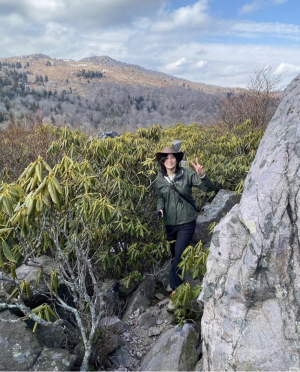 Tags: