The Office of Nationally Competitive Scholarships seeks a graduate assistant to support our work in advising students and recent graduates interested in applying for national fellowships and scholarships such as Fulbright, Gilman, CLS, Boren, and others. The ideal candidate will bring a combination of research, writing, and analytic skills to the position, with a strong focus on outreach, promotion, and event planning.
We encourage our GA's to take advantage of the opportunity to work with NCS. You may, as others have before you, find a fellowship to apply for!
Specific Duties:
Develop fluency in the mission, history, candidate profile, and other details of each scholarship/fellowship in the portfolio
Develop and maintain current information on fellowships, including requirements, deadlines, past history of applicants, and the on-campus application process
Design and produce outreach materials for specific scholarships and research additional opportunities
Assist in coordinating on-campus interview committees for a range of awards
Manage the Office of NCS website and NCS email account
Maintain a database of prospective and current applicants and track applicants throughout each application cycle
Schedule and participate in NCS Advisory Meetings
Draft press releases in coordination with UComm
Assist in planning events, including outreach/promotion, room reservations, materials prep, and facilitation
Identify campus partners (departments, professors, student groups) whose goals match each fellowship and facilitate recruitment of potential applicants
Contribute to the annual report by collecting data related to advising activities and analyzing data to identify office trends, successes, and areas in need of improvement
Other duties and projects may be added as agreed upon between the student and supervisor
Qualifications:
Enrolled full-time graduate student for the 20/21 academic year
Motivated self-starter with the ability to work independently and in a small team setting
Excellent communication (particularly writing) and organizational skills
Experience with basic website maintenance and other tech platforms
Ability to meet deadlines, prioritize, and handle multiple tasks simultaneously
Preferred, but not required: Previous experience applying for competitive fellowship applications such as Gilman, CLS, Boren, or others.
Hours and Compensation: 10 hours a week, $15 per hour, beginning August 2020.
If interested, apply by June 8th for full consideration by submitting a cv/resume and cover letter to ncs.appstate.edu.
Joanie Andruss
Assistant Director
andrussj@appstate.edu
828-262-8464
ncs.appstate.edu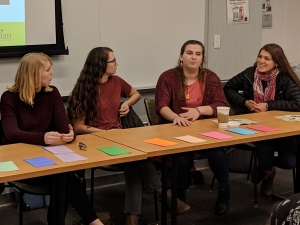 Tags: