Explore your interests
What are your goals? Consider carefully what you hope to accomplish and how a fellowship can help you to achieve this goal. For example: Do you have a research project that you want to undertake? Do you need funding for graduate school? Are you interested in exploring other cultures? Do you need funding for a study abroad program? Do you want to engage in community service or teaching? Do you want to learn a foreign language? Do you need to develop some professional skills, or are you undecided about a future career path and looking for an inspirational experience?
Once you have a clearer idea of what you hope to accomplish you can search fellowship programs to help you to achieve these goals.
Identify fellowships and scholarships
There are many different types of fellowships and scholarships. Explore the opportunities that are listed on this website and on the further opportunities page. You will find details of major awards, as well as other interesting internships, teaching and service oriented programs. It is also a good idea to talk with professors and academic advisors who may know of fellowships specific to your area of study, as well as to research professional organizations and private institutions that may sponsor awards in your field. Many of these opportunities can strengthen your qualifications for other major awards that may come later in your academic or professional career.
Begin your search by looking at programs that you are eligible to receive given your current academic level. Then broaden out to look at those that fit your goals. Some fellowships offer awards in particular fields of study, some have preferences for candidates from certain populations (ethnic groups, women, students with disabilities), and some are meant specifically for candidates who can demonstrate financial need.
Determine your eligibility and candidacy
Most fellowship/scholarship programs have stringent eligibility criteria. Before you get too far in the process ensure that you meet all of the stated eligibility criteria for the award. Applications that are deemed ineligible will not be reviewed by the award's selection committee.
You also need to gauge whether or not you are a strong candidate for the fellowship. Review the fellowship's purpose, mission and history to determine if it is a good fit with your academic/professional background, and that your goals align with the mission of the sponsoring organization. You may be eligible to apply, but are you a competitive candidate compared to past recipients? High GPAs are one indicator of a candidate's success as a student, but a high GPA is not enough to make you a compelling candidate. In addition, many awards look beyond just the GPA to consider other factors such as community engagement, leadership roles, knowledge of a 2nd or 3rd language, etc. Having a solid academic record as well as accomplishments outside of your classroom pursuits will greatly improve your candidacy.
In addition, ask yourself whether or not your professional or future goals be well served by this program. This will help you to determine if the program is worth your effort and will be a factor in selection as sponsoring organizations tend to only grant to candidates who will most benefit from the opportunity.
Make an appointment with the Fellowship Advisor
All students and alumni are encouraged to set up an appointment to meet with NCS. The our team will help you to determine which programs fit you best, navigate the application process and give you advice on your project statements, essays and letters of recommendation. During our meeting we will also discuss your goals and create an action plan to help you during the application process. To make an appointment, go to the homepage and click on the "Schedule an Appointment" button.
Prepare application materials
Begin by reading all of the application instructions provided by the fellowship's sponsoring organization. Ensure that you fully understand all of the procedures including the deadlines to meet. Having a firm understanding of what is expected from you will help to avoid technical disqualification.
In most cases applications for nationally competitive fellowships and scholarships require a combination of the following items:
An application form;
A project proposal essay and/or a personal statement/statement of intent;
A resume or curriculum vitae;
Letters of recommendation;
Transcripts from all post-secondary education.
Allow plenty of time when preparing your essays or project proposals. You want enough time to have them reviewed by your faculty mentors and advisors to ensure that your work is clear, error free, well-thought out and well-written.
###
About Nationally Competitive Scholarships
Nationally Competitive Scholarships (NCS) works with the Appalachian community to recruit and support students for nationally competitive scholarships and fellowships, including those that support research, teaching and critical language learning. This is achieved with outreach, mentorship and advising throughout the entire application and selection process. NCS is committed to helping undergraduate and graduate students find ways to connect their Appalachian education to their future endeavors through scholarship opportunities. Learn more at https://ncs.appstate.edu.
Compiled and Written by Johnna Reisner
April 17th, 2023
Boone, N.C.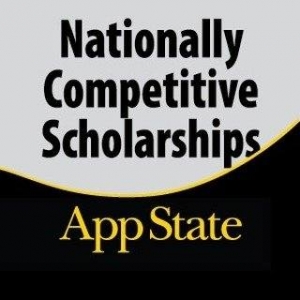 Tags: